They kept this damned quiet.
Hi, my name is Darren Grogan and I'm the Commanding Officer Designate of HMAS SUPPLY II. SUPPLY II was launched overnight in Spain and will be one of the Royal Australian Navy's newest and most exciting capabilities. SUPPLY II is an Auxiliary Oil Replenishment (AOR) Ship and is based on the Spanish Navy's Cantabria class AORs. SUPPLY II (and her sister ship STALWART III) will replace HMA Ships SUCCESS and SIRIUS and will be the most capable replenishment ship in RAN history. Her primary role as an AOR is to carry fuel, dry cargo, water, food, ammunition, equipment and spare parts to provide operational support for the deployed naval or combat forces operating far from port on the high seas for longer periods. In addition to replenishment, SUPPLY II will also be used to combat against environmental pollution at sea, provide logistics support for the armed forces, and to support humanitarian and disaster relief (HADR) operations following a natural disaster.
SUPPLY II will continue the proud tradition and service of SUPPLY I, which was also built in Europe and sailed out to Australia. During her 23 years of service, SUPPLY I conducted over 3400 Replenishment At Sea (RAS) evolutions, provided support to the RNZN protest against French atmospheric nuclear testing, took part in the American bicentenary celebrations and provided much needed support in Darwin after Tropical Cyclone Tracy to name just a few of her achievements.
We are also honoured to continue the legacy of HMS SUPPLY, a 24m two masted sailing craft which arrived in Botany Bay on 18 January 1788 with the First Fleet. HMS SUPPLY was also the first ship to sail into Port Jackson, which is where SUPPLY II will be homeported. HMS SUPPLY spent four years as the only link between the Colony of Port Jackson and the outside world providing valuable supplies and stores to the people of Sydney. Interestingly our role in SUPPLY II is very similar to our ancestors 230 years ago in HMS SUPPLY.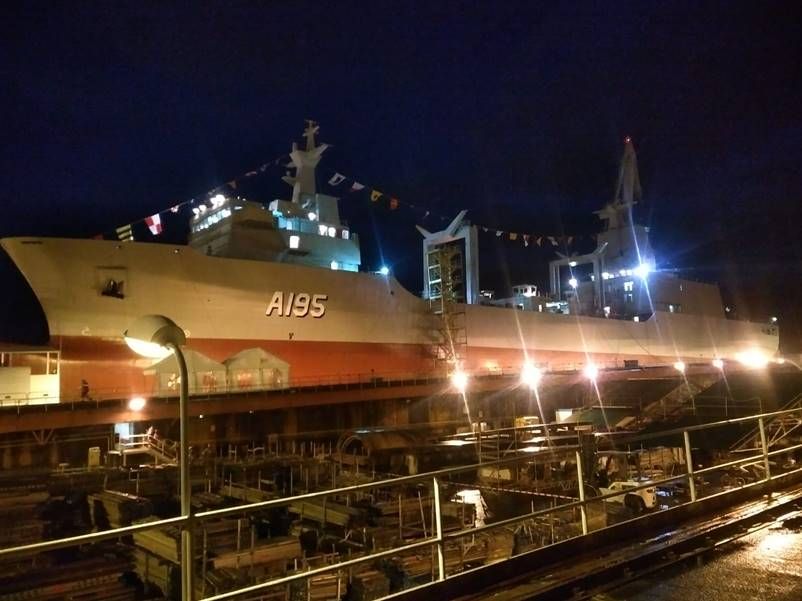 The launch marks the beginning of a long but very exciting journey for those lucky enough to be part of the Commissioning Crew. Over the coming months as the capability continues to grow, the crew will slowly start to form and watch the evolution from afar, waiting patiently for the ship to reach our shores. We welcome you to follow us as we make this journey and create our own history and we look forward to sharing stories with our shipmates that served in SUPPLY I as new stories are created.
Great to see her back on the water! Standby for more footage as it becomes available.
STRENGTHEN THE SHIELD